Between Tradition and Modernity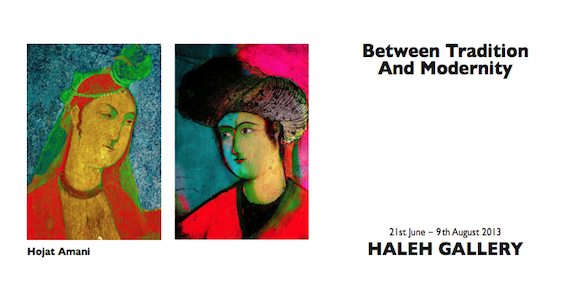 Tradition and Modernity
Hojat Amani
Opening: 21st  June, 6 – 9 pm.
22nd June – 9th  August, 
"Cheeky Faces," Hojat Armani formulates "a concept for a possible Iranian modernity," which does not reject its own traditions, but transforms them into new kinds. This traditional reference to the "language encased" in miniature paintings, was developed during the times of the Safavids (1501-1722), and the Qajars (1779-1925).
The modern transformation of these Safavid and Qajar portraits into this new aesthetic reminds us of Andy Warhol's pop art, as he used already-existing media images for his famous portraits of icons, like Elvis Presley and Marilyn Monroe. Hojat Amani likewise draws from the tradition of miniature portraits in the cultural heritage of ancient Persia.
Within his work "Safavid – Cheeky Faces," Amani has selected a playful association with this tradition. The venerable women and men emphasize their "cheeky faces," through colourful makeup and bright colours. The extensive presence and wide distribution of the Safavid and Qajar miniature paintings means that they are firmly embedded in the collective visual memory of Iranians. These new portraits now function as counterparts to the celebrity portraits found in western culture, that are omnipresent in our mass media. Amani's transformation of ancient Persian art into modern turns the "Between" into an "And". Between tradition and modernity means no contradictions, it is rather more a kind of third space, enabling the production of a new kind of modern Iranian art.
Biography:
Hojat Amani (*1979) lives and works in Teheran (Iran). He studied painting in Esfahan, Bachelor 2004 and Fine Arts at Tehran University, Master 2008. Exhibitions (selection): Environmental photo, Day Art Gallery,Tehran, Iran (2012), "New Iranian Art", Klaipeda Culture Communication Centre Exhibition Hall, Lithuania (2011), Magic of Persia Contemporary Art Prize, Traffic, Gallery, Dubai (2011)
Haleh Gallery cordially invites you to the opening of the exhibition Between Tradition and Modernity, on Friday 21st June 2013, 6-9pm.
Opening Hours: Thursday – Friday 11:00 to 16:00  – Wednesday and Saturday by appointment
« Back to exhibition overview