"Two Cultures – One World" by Hossein Edalatkhah & Pietro Di Lecce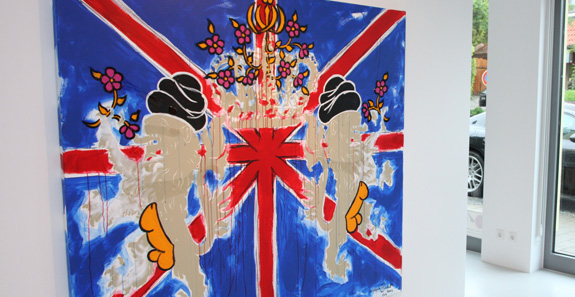 Haleh Gallery presented "Two Cultures – One World".The exhibition showcases work by Iranian
artist Hossein Edalatkhkah (b. 1979,Tehran) and Italian artist Pietro Di Lecce (b.1980, Milan).
Both artists have shown their work successfully worldwide. They share a common focus – a challenging exploration of the themes of peace and freedom.
Hossein Edalatkhah presents the world as a circus, boldly tackling issues of morality, sexuality and
personal freedom. He creates powerful visual symbolism and uses his provocative embellishment
of traditional imagery as an instrument of protest against repression and oppression.
Pietro Di Lecce's paintings owe much to the influence of Andy Warhol and Roy Lichtenstein. Rewriting the pictorial vocabulary of Pop Art, he conducts a piercing examination of the imperfections of past and present political policies as a vehicle of support for the young generation in their quest for peace and freedom.
The concept behind the Haleh Gallery programme is to bridge Occident and Orient. "Two Cultures – One World" aims to debate the themes of peace and freedom from two very different perspectives.
« Back to exhibition overview