DISOBEDIENT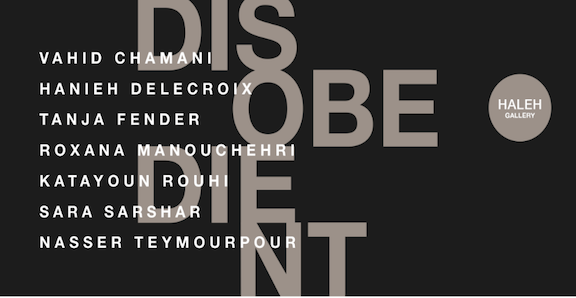 Disobedient
Vahid Chamani
Hanieh Delecroix
Tanja Fender
Roxana Manouchehri
Katayoun Rouhi
Sara Sarshar
Nasser Teymourpour
Private View: 09 November 2018, 6 pm
Exhibition: 10 November 2018 – 31 January 2019
In her recent book with the German title "Ich und die Anderen – Wie die neue Pluralisierung uns alle verändert" ("I and the others – How the new pluralisation changes us all"), the philosopher Isolde Charim explains the basic status of our society. Due to global migratory movements we are living nowadays in a pluralist and diverse society. Pluralism illustrates the population's cultural diversity consisting of individualized subjects. Shaped by their own identities, the members of the society have their own individual world conceptions and different approaches to important topics. As was true in the past, we have always lived in a pluralist multiplicity without a homogenous society. Homogeneity only existed in the past as fictional idea and false guiding principle. Pluralisation leads to the blurring of national, religious, and gender boundaries and at the same time to the growing of diverse expressions.
Pluralism is the central theme of Haleh Gallery's exhibition DISOBEDIENT. Not only our society is shaped by plurality, but also the artistic expression of the artists, represented by Haleh Gallery, is diverse and manifold. The group exhibition DISOBEDIENT presents a selection of works on paper and sculptures by seven international artists. With the exhibition DISOBEDIENT we want to liberate the artists from any curatorial straightjacket in order to provide a platform to present the pluralism and diversity of their artistic works.
The artists Roxana Manouchehri, Katayoun Rouhi, and Nasser Teymourpour employ in their works references to their Persian heritage, such as miniature painting and literature. Her childhood memories and Persian miniature painting inspire Roxana Manouchehri's drawings. Nasser Teymourpour refers in his works to the Persian poet Ferdowsi's heroic epic Shahnameh, The Book of Kings from 7th century. To incorporate literature in her artistic oeuvre, Katayoun Rouhi uses scripture as an independent artistic mean of expression. Artistic writing is also essential in Hanieh Delecroix's works where she unites psychoanalysis, script, and painting in a symbiotic relation. The subject of psychology resurfaces in Sara Sarshar's works, which give the forgotten victims of sexual abuse and assault and image and illustrate the emotional after effects of traumatisation. Vahid Chamani also deals with the psychological conditions of his figures and portrays them as lonely creatures enduring existentialist fears. Similarly, Tanja Fender addresses existential questions and negotiates in her works definitions of the human and its distinction to animal nature.
Short CVs of the participating artists
Vahid Chamani (*1984 in Teheran, Iran) studied painting at Soureh Universtität in Tehran, (Bachelor degree 2007). Member of Iranian Painters Society and Iranian National Talent Foundation.
Solo exhibitions (selection):Lazarew Gallery, Paris (2017); Cité Internationale des Arts, Paris (2016); Assar Art Gallery, Teheran (2015); Canvas Art Gallery, New York (2011).
Group exhibitions (selection): Tehran Museum of Contemporary Arts, Tehran (2014);
Lattuada Galerie, Milan (2014); Pallfyho Palac, Bratislava, Slovakia (2014); Willemsen Gallery, Amsterdam (2014); Royal College of Art, London (2009).
Kunstmessen: 2017 Art Expo Malaysia, Kuala Lampur (2017); Art Ankara, Ankara, Turkey (2015); The Armory Show, New York (2011)
Awards and prizes (selection): Selected for: Art Bridge Program, Washington D.C., USA (2009); Magic of Persia Contemporary Art Prize, London (2009). 7. Painting Biennale of Iran, Tehran, Iran (2008).
Winner of 2nd International Award of Monotheistic Religions (Illustration), Tehran (2007)
Museum acquisitions: Tehran Museum of Contemporary Art; Imam Ali Art Museum, Teheran; Iranian Artist House,Teheran.
Hanieh Delecroix (*1974 in Tehran, Iran) lives and works as an artist in Paris. Graduated in Clinical and Pathological Psychology from University Paris X Nanterre. She holds a doctoral level degree from LASI (Laboratory for Somatic and Identity Issues). Studied art at the École des Beaux Arts, Paris.
Exhibitions (selection): Mairie de Paris (Paris City Hall, 2017); Maison de Balzac (2017); Freud Museum, London (2017); "The Writing of Art", Rose Issa Projects, The Ismaili Center for Nour Festival, London (2016); "Jules César", Museum Quai Branly, Paris (2015); "Lifeline", Rose Issa Projects, London and Dubai (2013 and 2014).
Museum acquisitions:
King Abdulaziz Center for World Culture WASL 2018, Dhahran, Saudi Arabia, "A coeur ouvert", Painting from series "Lifeline".
British Museum, "Dans ta main", exhibited in the department for Islamic Art, Painting from series "Lifeline".
​
Tanja Fender (*1973, in Winogradar, Kyrgysztan) lives and works in Munich. She studied art at the art at the Fine Arts Academy in Munich with professor Norbert Prangenberg. From 2006-2008 she was master student with Prof. Prangeberg.
Solo exhibitions (selection): "Hinter dünner Wand", Kunstverein Bad Dürkheim (2016); "Zusammenfügung" Kunstverein Ebersberg, Galerie Alte Brennerei (2015).
Group exhibitions (selection): "Verborgenes – Bestandsprobe III", Museum Pfalzgalerie, Kaiserslautern (2016); Arkadenale_piep "10 Jahre Kunstarkaden", Kunstarkaden, Munich (2015), "Irgendwas mit Löchern", galerieGEDOKmuc, Munich (2014);IHAA Foundation Exhibition, Gachon University Seoul, Korea (2012).
Katâyoun Rouhi (*1965 in Iran) lives and works in Paris. Graduated in painting from École des Beaux Arts, Paris, Doctorate in aesthetics and art science Paris I, Panthéon-Sorbonne.
Solo exhibitions (selection): Gerald Moor Gallery, London (2017); Ismaïli Center, London (2016); Shirin Art Gallery, Tehran, Iran (2015); etc.
Group exhibitions (seelction): MOP Fondation in Monaco "fundraising exhibition", Monaco (2017); Museum of Contemporary Art, Ahvaz, Iran (2016); Contemporary Art Gallery, Auvers, France (2015); Internationale Auktion, Christie's, Doha, Qatar (2011).
Roxana Manouchehri (*1976 in Teheran, Iran) lives and works in Dublin. She graduated from Art University in Tehran with a Master and Bachelor degree. Roxana Manouchehri participated in numerous international solo and group exhibitions, as well as biennials, among them, i.e. Assar Art Gallery in Tehran, Kevin Kanagh Gallery in Dublin.
Fellowships and residencies (selesction): Asian Artists Fellowship Program in National Art Studio, Chang-dong, Seoul, South Korea (2007); Belmont Mill Artist Studios, Offaly, Ireland (2010); Rauma, Finland (2011). Can Serrat, Barcelona (2013).
Sara Sarshar
2017-2020: BA Goldsmiths History of Art and Fine Art (Joint Honours), London, England
2016-2017: Foundation Diploma- Art & Design (distinction achieved), Central Saint Martins,
UAL, London, England
2016: International Baccalaureate Diploma, MIS, Starnberg, Germany
Exhibitions (Selection):
2018: Forgotten Amgel, Haleh Gallery, Berg, Germany
2018: 'Rhythms in Art' Exhibition at Stretch New Cross London, UK.
2018: 'Fine Art and Art History' Auction at Goldsmiths University London, UK.
2018: 'Themselves at Five Bells' Group Exhibition at Five Bells Gallery London, UK.
2018: 'No Naked Flames' Group Exhibition at Baths Student Gallery London, UK.
2017: 'Tease' Group Exhibition at Stretch New Cross London, UK.
2017: Foundation Exhibition at Central Saint Martins London, UK.
Nasser Teymourpour (*1980 in Iran) lives and works in London. 1999-2006 studied Industrial Design at Azad University, Department of Art and Architecture. 2008 Master degree in Stage and Film design at University of Applied Arts, Vienna.
Exhibitions (selection): "The museum of stolen objects",Saye Gallery, Teheran (2016); "Mustache",Dena Gallery, Teheran (2016); "4 show", London (2015); "Artist's Book: Book As Book" , Mah-e_Mehr Gallery, Teheran (2013); "Tehran Calling London", London (2013); "In between", Atelierhaus Salzamt, Linz (2012)
« Back to exhibition overview