PERSIAN GARDEN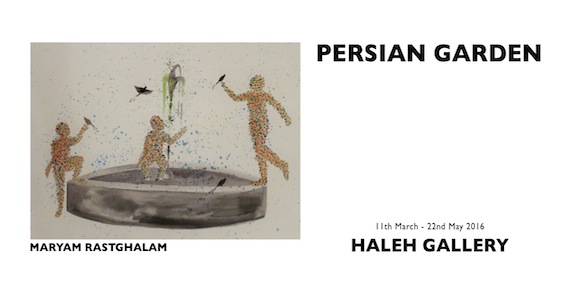 With PERSIAN GARDEN Haleh Gallery presents for the first time a solo exhibition by Maryam Rastghalam. Inspiration for the works of Maryam Rastghalam is certainly the rich cultural heritage of her homeland Iran. The works displayed in the exhibition involve different manifold levels of the motif of the Persian garden. Maryam Rastghalam's images are multi-layered since they can be read and analysed in the Iranian cultural context while simultaneously emphasizing universal values like memory, rebirth, imagination and longing of the past.
Through the listing by UNESCO on the world heritage list the Persian garden as masterly work of landscape architecture is recognized:
"The Persian Gardens in Behshar, Birjand, Isfahan, Mahan, Mehriz, Shiraz and Yazd are mythical religious places whose origins date back to the time around 600 before Christ. They are built in accordance with the principles of Persian horticulture. Their geometrical arrangement symbolically stands for the cosmic order of the world. The gardens represent paradise on earth and reflect the elements sky, earth, water and plants of Zoroaster teaching. An exceptional testimony of early engineering is the water supply of the gardens. Melt water from the mountains flows through underground tunnels, so called qanats, across thousands of meters to the gardens and feeds wells and fountains." 
The exhibition also consists of four elements. In the first section "Persian Garden" Maryam Rastghalam shows the enormous importance of the garden in Iranian culture. Especially in Persian literature the image of the garden is commonly used and serves as visualization as paradise on earth. For the poets Hafez and Jalal-al-din Rumi the garden is a symbol of divine beauty and mystical love. The most famous representations of the garden can be found in the tradition of Persian rug making and is therefore very present in everyday pictorial world.
The paper works of Maryam Rastghalam indicate not only happiness and beauty; the series "Rose and Bird" highlights injury and pain. The artist refers to the motif of bird and rose, which came to prominence during the time of the Safavids as decorative elements in architecture, metal and lacquer work, ceramic and rugs. In literature the topic of rose and bird stands for love. The rose is beautiful, proud and cruel, opposite to the nightingale endlessly singing of devotion and longing. Not only interpersonal relationships are addressed, but the image also serves as metaphor for the unification of the human with the divine soul.
"Spector of a Garden" illustrates the private memory of the artists of houses and gardens in her childhood and youth in Iran. Many of those old houses have not been inhabited or had to make way for modern architecture. Only remnants are souvenirs of past elegance.
With the exhibition PERSIAN GARDEN we would like to invite you to discover and explore the impressive pictorial worlds of the Persian Garden by Maryam Rastghalam.
CV
Maryam Rastghalam (*1981 in Isfahan, Iran) lives and works in Milan.
Education: Isfahan School of Art – Graphic (2000), Tehran Art & Architectural Azad University (2004), Fine Art Academy Florence (Accademia di Disegno di Firenze, 2008), Fine Art Academy (Accademia delle belle arti di Brera, 2012)
Exhibitions (selection):
Who art you? Berlin edition, We gallery (Berlin 2016); Flashback, Haleh Gallery (Munich 2015);
Who art you, La fabbrica del vapore (Milan 2015); Isola Isole Insulae, Assab One Exposition Space (Milan 2012)
« Back to exhibition overview