SILENCE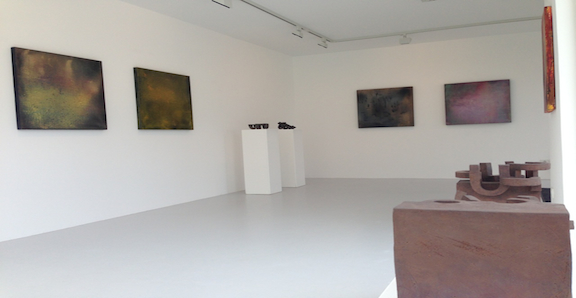 Haleh Gallery's 2013 opening exhibition, focuses on the dialogue between two artistic positions from Germany and Iran. Sculptor Max Wagner, a Starnberg resident (*Straubing 1956), and San Francisco-based painter Yari Ostovany (*Tehran 1962) share an affinity for the calligraphic gesture: whereas Ostovany creates virtual, contemplative spaces by accumulating various transparent layers of colour, Wagner's three-dimensional abstract writings are reminiscent of archaic objects occupying the real space.
Yari Ostovany's pictorial cosmos associatively orbits around mythologic and poetic motifs rooted in ancient Greek legend as well as in modern Western or Persian mystical poetry. Thus the cycle Conference of the Birds refers to a classic of medieval Sufi literature: a flock of birds ventures off on a search for Phoenix, the king of birds; at the end of the journey that had taken them through seven mystical valleys, through thirst, hunger, heat and coldness, the birds discover that – united by common spirit and common experience – they themselves are the great Phoenix. The title of another series of works, The Third Script, alludes to a sentence of 13th century Persian mystic Shams-i Tabrizi: "The calligrapher wrote three scripts. One that he alone could read. One that he and all others could read. And one that neither he nor anyone else could read. I am that third script." This tale reflects Ostovany's own creative process which also departs from carefully placed calligraphic characters, conveying notions of meaningfulness and significance. Numerous subsequent layers of painting then overlie, smudge and conceal the writing hardly yet begun. The narrative details blur and dissolve into nervous structures, into smears and mists of colour. What remains are atmospherically charged spaces, open for the spectator's own thoughts and memories.
As for Max Wagner, writing also is rather a meditative exercise than a means of information. Guided by intuition, he sometimes is immersed in sketching lines and letting them flow and grow for hours. Cast in bronze, these formations unfold into space like winding plants; similarly, Wagner's ceramic works translate musical experience into three dimensions. In both cases Wagner, like Ostovany, is not concerned with an accurate protocol of language or music or with their minute reproduction. What matters is a re-presentation of impressions and feelings that are incomprehensible to intellect. So Wagner's sculpures do not employ specific signs or characters but rather abstract ornaments: unreadable fragments of an alphabet or a musical score which reconstruct the dynamics of speech, rhythms or melodies, impressive through the strenght of their immediate presence alone. Interwoven and knotted, they are like a "dance of forces round a centre" (Rilke): pure energy around a blank space that tells the viewer of what still could be said; a nest waiting for stories.
We cordially invite you and your friends, to the opening of the exhibition on Friday, 1st February 2013 at 6 pm.
The Artist MAX WAGNER will be present at the opening.
We look forward to seeing you!
Opening Hours: Thursday – Friday 11:00 to 16:00  – Wednesday and Saturday by appointment
« Back to exhibition overview